Grace and Glory LIFEClass Program is a unit-study based, 30 week home school enrichment program led by Grace and Glory facilitators, so parents have the opportunity to drop off their students. LIFEclass days include 4 hours on campus experience filled with Christ-centered lessons, group learning, unique and engaging projects, high interest activities and all content is specifically geared towards homeschooled students!
For the 2014-15 term, LIFEClasses will be held on Mondays at Northpoint Evangelical Free Church on Ontario Ave in Corona.
Our NEW K-5 theme is "Soarin thru California"….classes are taught in a safe and caring atmosphere, where students get to enjoy extra bonuses like seasonal celebrations and shows, and this year we will be offering a Geography Bee for kids to participate in!
**Please see our TEEN page, for 6-12th grade LIFEClass info**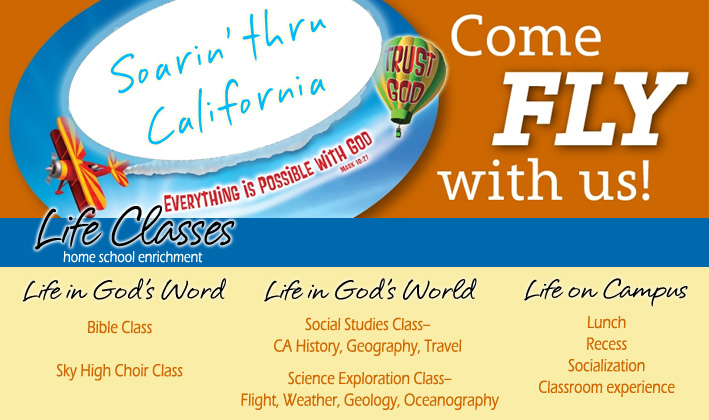 Curriculum Fee: $30.00 per K-5 student
GGHS Member LIFE Class Fee: $55.00 per month, per student or $550 annually
NON GGHS Members LIFE Class Fee: $70.00 per month, per student or $700 annually
**All fees are in addition to your Grace and Glory Family Registration Fee which applies to members and nonmembers equally**
Additional requirements for LIFE Class students includes school supplies, a backpack, lunchbag, and uniform polo shirts.
K-5 LIFEClass campus hours are 9:15am-1:15pm | See Teen page for 6-12th grade hours
Click on the link to download the LIFE classes calendar: GGHSCalendar-2014-2015
Shop our GGHS Lands End Store for LIFE class polo's and more!

Living In Faith Enrichment –
Enriching home school education, while building real LIFE skills!
Note: participating in our classes, is not equivalent to enrolling in our Academy PSP.
Grace and Glory has a passion for ministering to home schooling families, regardless of their affiliation.
GGHS supports efforts towards private home education however, we gladly welcome all bible-believing, home schooling families, to enroll in our LIFE Classes, including but not limited to Charter School families, those who file independently and those enrolled in other private home school programs.