Grace and Glory Monday classes are spanned over a 30 week program, from August-May, led by Grace and Glory facilitators.
Parents are blessed with the opportunity to drop off their students for classes. The Monday campus experience will run 5 hours long, filled with Christ-centered, Charlotte Mason style lessons for grades K4-12th; group learning, unique and engaging projects, high interest activities and solid curriculum, is sure to leave a lasting impression upon your student. Our team of leadership is dedicated to forming personal connections with students, praying for them and encouraging them, and being positive role models.
Classes are held in a clean, safe, ministry environment, centrally located in Corona. We refrain from publishing the address of the classes, in an effort to protect our students. (Interested families may inquire via phone or email)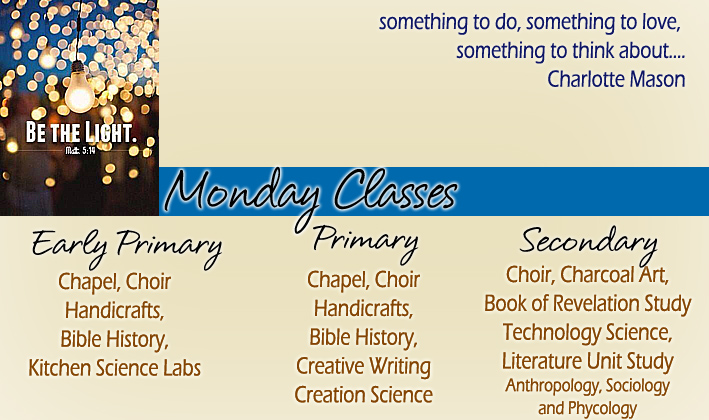 Please click on the link, to download our Monday Class Chart for the 2015-16 term: **right click and open in a new tab**
Grace and Glory Academy – 2015-16 Monday Classes
Please click on the next link, to download our Monday Course Descriptions: **right click and open in a new tab**
Grace and Glory Academy 2015-16 Course Descriptions – Monday Classes
This file provides an overview of our Fees: **right click and open in a new tab** Fee Structure 2015-16
Here is our 2015-16 Calendar, including Monday Class Dates: **right click and open in a new tab**
2015-16 GGHS Academy Calendar
Additional requirements for Mondays: school supplies, materials fee/book fee applies to some classes, a backpack, lunchbag, and uniform polo shirt for K-4. Students in grades 5-12 must wear SCHOOL COLORS of Navy, White or Gold, but do not have to purchase uniforms specifically.
Monday campus hours for the 2015-16 term will be: 8:45am to 1:45pm
Students in K-6 are enrolled in the full day of classes; students 7-12 may pick "al la carte" how many classes they wish to participate in.
Note: participating in our classes, is not equivalent to enrolling in our Academy PSP.
Grace and Glory has a passion for ministering to home schooling families, regardless of their affiliation. GGHS supports efforts towards private education however, we welcome all bible-believing, home schooling families, to enroll in classes, including but not limited to Public Charter School families, those who file independently and those enrolled in other PSP programs.