Homeschooling, like coffee, is all about personal preference. Grace and Glory would be similar to your local, hand-crafted coffee shop. We specialize in personalized service, but we have a limited menu. Click to enlarge the info-graphic below for more details: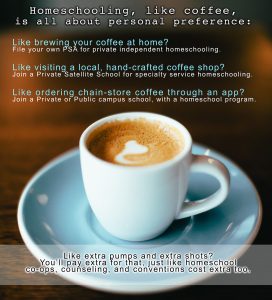 We hope the following Q & A's will help you decide if Grace and Glory is the right fit for you. 
Q: Are you affiliated with a church?
No. We are an independent non profit, 501c3 organization.
Q: What are the fees to join Grace and Glory Academy?
Here is the latest information about our fees: GG-Rate-Sheet
>Q: What are the greatest benefits of private homeschooling?
1: Families can educate without government input or oversight.
2: Families can educate with freedom and flexibility in regards to curriculum, scheduling, and vaccinations.
3: Families can explore alternatives to traditional academics.
4: Families can increase availability and time together for ministry, business and travel.
5: Families can develop student's God-given gifts and talents, as they let God lead their home schools!
Q: Are there a required number of educational days/hours?
In the state of California, there are no required number of educational minutes for private school students, however, Grace and Glory Academy requires that all students complete between 165-175 educational "school days" (including field trips) per academic year.
>Q: Are parents solely responsible for their child's educational instruction at Grace and Glory?
Parents must be committed to planning, preparing, reporting and overseeing their students education; the parent-teacher is required to be in charge of atleast 51% of education at home. Extracurricular Classes, Co-Ops, and tutors may be used for "select" subjects but not the majority. 
>Q: Which school subjects are required to be taught?
In the state of California, private schools must offer instruction in the following branches of study: English (including Phonics, Reading, Literature & Writing, Spelling & Grammar), Arithmetic, Social Studies & Geography, Science, Fine Art, Health and Physical Education.

Q: Can I join Grace and Glory, while enrolled in another PSP, Charter School or filing my own PSA?
No. We have discontinued our Associate Members program.

Q: How is Grace and Glory Academy different from a charter school?
CA charters are public-school programs, which accept government funding and have public education employees who oversee families. Grace and Glory is a non-profit private school and ministry of volunteers, which does not accept any public funding.
Also, Grace and Glory students may legally receive religious instruction using religious materials during school hours. Because charter students are public school students, – under CA State Constitution Article 9/Section 8, public school students are not legally permitted to receive religious instruction or utilize religious materials during school hours. [even if parents purchases these materials themselves]
Q: Who should NOT apply to join our school?
Families who do not agree with our Statement of Faith,
Families that want to practice unschooling,
Parents that are not available to oversee their student(s) during school hours,
Parents that are not able to teach their children in English or communicate with the school in English,
Parents that are not able to respectfully submit to our leadership team,
Parents that have already enrolled their students in a public or private school (at home, virtual, campus, etc)
Q: How do families apply? email: info@graceandgloryacademy.org to begin the application process. 
Be sure to read our Info Letter 2022-23